06 Jul

UHC Pfannenstiel från Schweiz klara för HIBF Pre Season Challenge!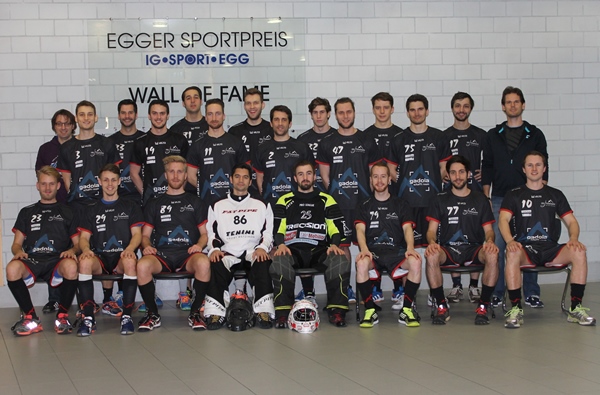 Vi från HIBF Pre Season Challenge kan mycket stolt presentera nästa lag som är klara för vår turnering, nämligen UHC Pfannenstiel från Schweiz!
Ännu en gång har vi lyckats knyta till oss ett internationellt lag (Vanlöse klara sedan tidigare) och denna gången kommer de hela vägen från Schweiz. UHC Pfannenstiel håller till i den tredje högsta liga vilket motsvarar div. 1 här i Sverige. Både vi och UHC Pfannenstiel ser mycket framemot HIBF Pre Season Challenge och nedan kan ni läsa Teamchefen Christof Maurers tankar kring sitt deltagande hos oss:
HIBF Pre Season Challenge are very proud for that you have chosen to participate in our tournament. Why did you choose to attend at our tournament?
We were searching for a good preseason tournament, where the level of floorball fits us. Last year we attended a tournament in Weissenfels (Germany), which was fun but driving the whole journey with our own cars (700km – one way) was very annoying.
Unfortunately in Switzerland we found no tournament that fits in our schedule, so we had to look somewhere else.
Next thing Rasmus (your new player) told me that you would organize the PreSeason Challenge in Höllviken.
As I told our team about the tournament and asked if they will participate the whole team seemed happy about the idea and most of them could come to the trip. It was important for us to be more or less the whole team and that the players want to come, because they pay the trip themselves.
We Swedes are very interested in Swiss floorball. How big is floorball in Switzerland and how does the future look like?
Floorball is also a big sport in Switzerland, but Sweden is many steps in front of us and way more professional.
We have had a good generation with players like Matthias and Christoph Hofbauer or Emanuel Antener….but at the moment the swiss floorball is behind Sweden, Finland and also the Czech Republic. The last world championships were hard for Switzerland with the setback against Sweden in the semifinal and also the rout in the bronze medal game.
Now we try to make the difference to the top nations smaller with our new coach David Jansson (he was before in Pixbo). We hope it will work….
As I understand it, you play in the Swiss third division (like div. 1 in sweden), what vision does your club have?
Yes that is true, we are playing in the 1st league and last season we made the playoffs – Top 34 of Switzerland. Our goal for this season is again to reach the playoffs (Top 4 this time). In the 1st league the top 6 of the table play the playoffs and the place 7 to 10 play play-outs.
In the past years we have had a turbulent time:
2007 relegation in the 3rd league (because Swissunihockey made a new league)
2008 promotion in the 2nd league
2009 promotion in the 1st league
2010 relegation in the 2nd league
2011 promotion in the 1st league
2012 relegation in the 2nd league
2013 promotion in the 1st league
2014 stayed in the 1st league, but we had to play play-outs
2015 first time qualification for the playoffs and defeat in the quarter-finals
So our vision is to establish ourselves as a Playoff-team in the 1st league . At the moment we have a good generation with proper technical skills and a great team spirit, but we are not as professional as you need to go up in the NLB (like Allsvenskan in Sweden), because we don't have the structure in the club and we just practice twice a week with the team.
Our new player Rasmus played with your team during the last season, what do you have to say about him?
Yeah, it was really great for us that Rasmus played for our team last season.
We met him the first time at the Turicum Open 2012 in Egg near Zurich (Switzerland) as I organized a international tournament myself. Next we talked about studying and playing floorball in Switzerland. And last year he came down to Switzerland for two exchange semesters – a great acquisition for us.
Rasmus is a great player – very good technical skills, fit, strong body and he was all the time smiling as he played.
Believe me we (and nearly our whole club) are sad that he went back to Sweden, surely you made a good move to get Rasmus.
What expectations do you have on HIBF Pre Season Challenge?
We expect to play a good tournament one week before our season starts and hope to take a lot of impressions back home from this tournament in Sweden.
We take the Pre Season Challenge like a practice camp with a friendly game (Thursday), a practice (Friday) and the tournament in the end.
I am sure it will be a nice experience for the whole team.
And at the end a special thanks to the organization who help us so much to organize the time in Höllviken – Tack sa mycket Fredrik.
Vi från HIBF Pre Season Challenge hälsar UHC Pfannenstiel varmt välkomna och önskar dem ett stort lycka till!
Detta innebär att följande lag nu är klara för herrklassen:
– UHC Pfannenstiel (Schweiz)
– Vanlöse Floorball (Danmark)
– FC Helsingborg U
– Höllviken IBK
– Malmhaug
– IK Stanstad
– Skurup
– Palmstaden IK
– Willands
– IBK Lund